Warman Productions is a full service video and media production company located in Columbus, Ohio, providing services across the country.
In an industry saturated with change, Warman Productions' over 40-years in business should tell you something. Our focus has always been on doing whatever is necessary to meet every client's needs. We're constantly finding new ways to tell your story and deliver your message better, while investing in the video, audio, and presentation technology we need to make that happen.
From the initial creative concept, through production and distribution we work alongside you as a partner, not just a customer. We're flexible and can offer as many or as few services as your projects may need, supported by a wide range of equipment options.
Although we're located in Columbus, we work with companies, producers and broadcasters across the country to provide location videography throughout the United States.
Below is a list of just a few of the many services we provide. If there's another video or media production service you're looking for, feel free to contact us.
PRE-PRODUCTION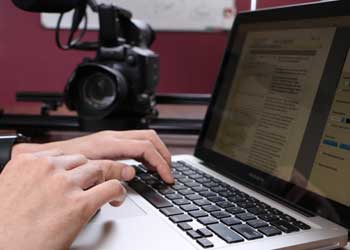 A compelling message isn't just created by a desire to deliver one. A lot of thought and preparation has to take place before a video camera is ever touched. Many of our clients come to us with an idea as to what point they want to get across in their video, but no idea where to start. Our first step is to get to know you, your company, and your message inside and out. Once we know that, the creative process begins. From concept creation, to scripting, to research and development, talent acquisition, location scouting and production day preparation, we take care of the details so that you don't have to. We know that each of our clients is an individual or company with unique production needs, and we tailor our services to allow your uniqueness to shine.
Concept Creation
Creative ideas and concepts for your video.
Scripting
Full scripting services, complete with interview transcription.
Research and Development
Immersive research into your field, and/or company, to get to the heart of your content.
Talent Aquisition
If your production requires on-screen talent, we'll find the best fit candidates.
Location Scouting
Prior to starting a production we'll scout the shooting locations and prepare ahead of time, saving you time and money.
Third Party Vendor Relations
If you're in need of other vendors to complete your production, we can make those contacts.
PRODUCTION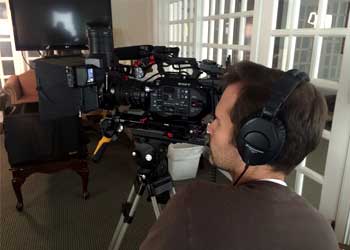 Once your message is ready to be made into a video we provide all the necessary equipment, talent, and services that are needed to make that happen. With video camera options ranging from Sony FS7 and XDCam to Canon DSLR, we're guaranteed to have the right camera to suit your particular needs, and it doesn't stop there. A video camera will only record what you put in front of it and, though the operator can make or break a shoot, the lighting, sound and production-day-directing is what sets a superior production apart from the rest. With over 60 years combined in the production business we have the experience it takes to make the ordinary look extraordinary.
4K Videography
Future proof your production with four times the resolution of HD video.
Multiple Camera Options
Video camera options ranging from Sony FS7 to Sony XDCam to Canon DSLR (with options in between)
Aerial Videography and Photography
4K capable quadcopter (drone) for a higher perspective.
Lighting
LED and tungsten lighting options
Audio Aquisition
Wired, Wireless, or Boom operated audio.
Dolly and Slider
Both a large size and small size dolly and slider for dynamic shots.
Motor Driven Camera System
Perfect for a second camera, the unmanned operation will add constant movement to an otherwise static shot.
Steadycam System
Looking for smooth shots on the go? Our full-size camera stabilizer does just that!
Full Size Jib(Crane)
For getting high above, or down below, a shot. Adding a dynamic move.
Mobile Audio/Video Switching System
Audio/video switcher for combining multiple audio and video sources for live productions.
Tele-Prompter
Two-way-mirror teleprompter system for guiding on screen talent.
Fully Stocked Grip Truck
Completely stocked grip truck, accompanied by a talented, experienced staff, to get your production done right.
POST-PRODUCTION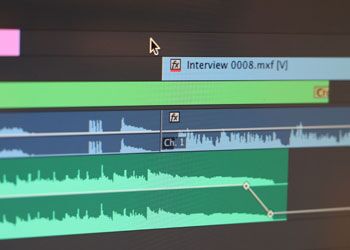 Our studio, located in Columbus, Ohio, just outside of Upper Arlington, is equipped with the most advanced, state-of-the-art editing, motion graphics and 3-D animation suites that money can buy. Since the editing, motion-graphics, and post production phase of your project is the critical point where your vision becomes a reality, we pride ourselves on the talent of all of our employees and their ability to package your message into a compelling final video product. Once your video is everything you dreamed it would be, we can deliver it to you in almost any way imaginable.
Editing
Three fully fitted, state-of-the-art, video editing suites.
Motion Graphics
Completely animated productions, as well as graphics to accompany pre-existing video.
3D Animation
If it can't be filmed, we can create it and animate it at our studio.
Color Correction and Grading
From minor adjustments to full scale blockbuster-style grading.
Sound Design
Music, sound effects and V/O mixed to fit your projects needs.
In-House Narration
No out-sourcing needed with our in-house studio and SAG/AFTRA narrator.
Graphics Packages
Branded and beautiful graphics, unique to your project.
Video Compression
Content can be delivered in whatever form your final audience requires.
DVD Duplication and Printing
In house duplication and printing services for your completed production.
DVD Authoring
DVD's authored on site for delivering your video to the masses.
Blu-Ray Authoring
High-Definition quality; playable in any household blu-ray player.